7th September 2018
CSEPI welcomes and applauds the Supreme Court Judgement Decriminalizing Gay Sex.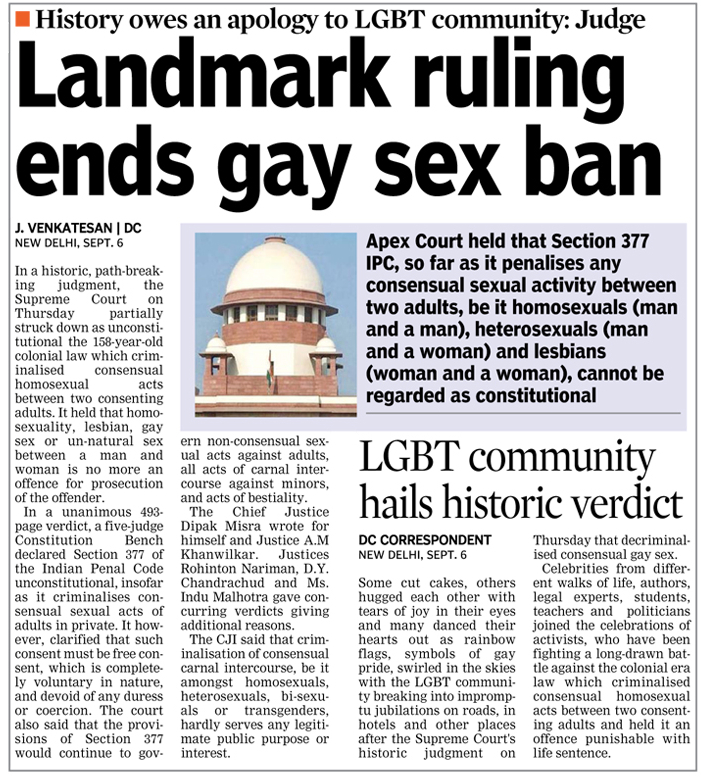 Link: http://epaper.deccanchronicle.com/epaper_main.aspx
Link: https://www.deccanchronicle.com/opinion/columnists/070918/supreme-court-makes-history-but-gay-prejudices-linger.html
3rd July 2018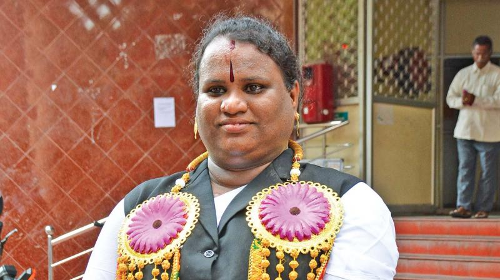 CSEPI applauds the spectacular achievement of Sathyasri Sharmila who became the first transgender to enrol as a lawyer in the Tamilnadu and Puducherry Bar Council.
We also applaud the concerned Bar Council for their progressive thinking and gesture.
Link: https://deccanchronicle.com/nation/current-affairs/010718/tns-first-transgender-lawyer-enrols-at-bar-council.html
25th April 2015
In a rare legislative action, a private member's bill that aims to protect the rights of transgenders was passed unanimously by voice vote in the Rajya Sabha Friday. It is the first private member's bill passed by the Upper House in 36years.
The Rights of Transgender Persons Bill 2014, moved by Tiruchi Siva (DMK), was passed as Leader of the House Arun Jaitley said it wouldn't be proper if the House was divided as all were in favour of the rights of transgenders.
CSEPI applauds the house of elders for delivering this historic Justice. CSEPI also thanks Sri Tiruchi Siva who moved this private member's bill. CSEPI is of the opinion that all our MPs should have an open mind as Sri Tiruchi Siva.
16th April 2014
In a land mark judgment the Supreme court ( Highest Judicial Authority) of India, on Tuesday 15th April recognized Transgender as the Third Gender and ordered them to be included in the in the OBC (Other Backward Class) category for education and jobs.
The Supreme Court directed the Centre and State governments to take steps to treat them as socially and educationally backward classes of citizens and extend all kinds of reservation in cases of admissions in educational institutions and for Public appointments.
The Supreme Court bench had observed the decision to grant the third gender OBC status is to assuage the insult and injury suffered by them so far and to speed up the process of  securing FULL Human rights of the marginalized community.
This judgment came on a petition filed by National Legal Aid Services in 2012 to ensure fundamental rights for Transgenders.
CSEPI applauds this judgment as it recognizes that sexuality is multi dimensional and encompasses all forms of Sexuality: Sexual Orientations, Gender, Transgender and Intersex as erotic preferences and lifestyles.
12th December 2013
The Indian Supreme Court had delivered a judgment on (11th December 2013) pronouncing that the 2009 Delhi High Court verdict that decriminalized Homosexuality was not constitutionally valid.
It means that Gay Sex (even between consenting adults) continues be Criminal Offence. The Delhi High court judgment came in 2009 when an NGO fighting for the Rights of Sexual Minorities filed a Public Interest Litigation.
After the Delhi High Court judgment some Religious groups and Political parties opposed this and went to Supreme Court (the Highest Judiciary in India).
After listening to the arguments of both sides the Supreme Court pronounced its judgment yesterday.
This is a body blow to Sexual Minority Rights.
CSEPI is in disagreement with this. CSEPI believes that all sexual and cultural minorities should enjoy equal freedom, civil rights and parity of social opportunity and privileges.